Testimonials
Part of maintaining high customer service standards is making sure that whenever possible we collect feedback from our customers so that we can find out what we're doing right and where we could use some improvement. You speak and we listen. Here are a few comments from our satisfied customers: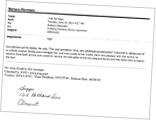 Compliment call for Bobby: Customer said, "The tech arrived on time, and was very professional and polite." Customer is taking care of an elderly mother, Bobby acknowledged her, and even spoke to her briefly. Customer is very pleased with the service he receives from both technical and customer service. He had called in the morning and Karen told him what time to expect the tech.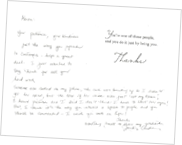 Karen,

Your patience, your kindness, just the way you speak to customers helps a great deal. I just wanted to say thanks for all your hard work.

...You should be commended — I wish you well in life!

Thanks,
Jackie A.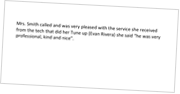 Mrs. Smith called and was very pleased with the service she received from the tech who did her tune-up (Evan Rivera). She said, "He was very professional, kind and nice."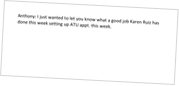 Anthony,

I just wanted to let you know what a good job Karen Ruiz has done setting up ATU appt. this week.

-Another satisfied customer